So... let's talk about today. I get a call at 9:00am this morning from a woman named Isabelle who is from Norway. I met her a few weeks ago at ZJ, and she was asking about shooting some photos for a Norwegian fashion magazine. Anyways, long story short, there were 3 chicks from Norway hanging out at my house shooting photos of this blonde model from Hollywood. When Austin went to the "Z" he heard about what was going on from DTM. Austin skated his brains out, all the way back to my crib in 2 minutes flat! When the ladies were done using our house we headed out to LMU to attempt a 3 block/out ledge session. We were escorted calmly back to my car by a security guard and we headed back toward 825. We looked at this curvy ledge that has only been skated by Sierra Fellers(rumor has it) and Austin did a Manual flip out.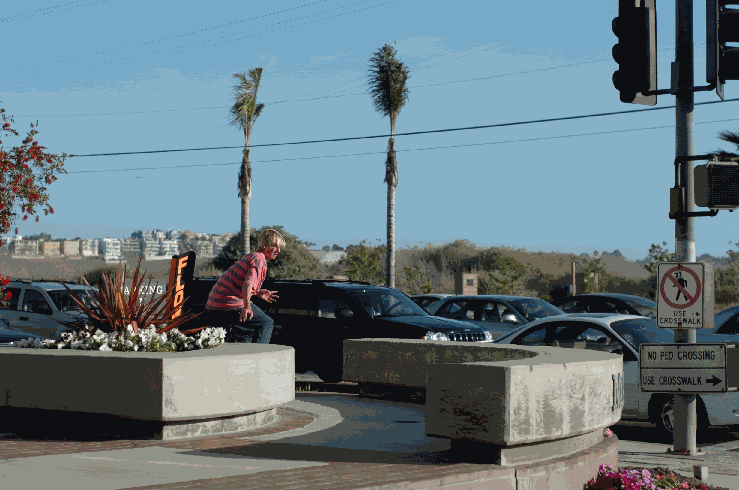 ...that was second try folks...
But thats not all, when we got back home Austin asked if I would post that sequence on the site.. but I told him that one sequence wasn't enough. So he demanded that I come across the street to Albertson's to shoot a trick that DTM did like a year ago.
(REFER TO PHOTO BELOW)
Within 5 minutes the security guard is telling us to leave, so I set up my tripod and waited for a distraction. We got about four tries in and what do you know? Austin comes through (literally) blasting an ollie through the cart corral barrier.